Fri., April 13, 2012, 8:56 a.m.
Idaho Dems To Hold Prez Caucus
Idaho Democrats will caucus on Saturday morning to select their presidential delegates, and they're inviting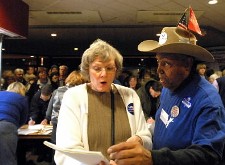 folks to join them at the gatherings in each Idaho county. At locations from Mugsy's Tavern in Bonners Ferry to the Morrison Center in Boise, Dems will gather at 10 a.m. local time -- meaning the doors will close then, so those who want to participate should arrive before that hour; you can read my full story here in today's Spokesman-Review. "People who turn out are people that are excited to be Democrats, they're excited to have a Democratic president to support, and this is their chance to do it," said state party spokesman Dean Ferguson. "I'd expect quite a bit of enthusiasm." Ada County Democratic Chair Colleen Fellows said, "This will be an exciting up-beat rally atmosphere"/Betsy Russell, Eye On Boise. More here. (AP photo: Bette Inseth, left, and Albert Wilkerson go over paperwork at the 2008 Idaho Democratic Caucus at the Kootenai County Fairgrounds)
Question: Do you plan to participate in the Idaho Democratic caucuses?
---
---