Fri., April 13, 2012, 12:56 p.m.
IFF Decries Senate Ethics 'Gag Order'
And that makes the 2012 Senate's session-ending ethics rule change that much more puzzling and worrisome. The Senate passed a rule that says ethics complaints are to be confidential until such time that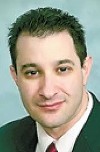 the bipartisan ethics panel finds probable cause to move forward with a full-blown investigation of a complaint. Under the new rule, a complaint can be brought in secret, reviewed in secret and dismissed with the permanent promise of secrecy, so long as the Senate Ethics Committee lacks a majority vote finding that probable cause exists of an ethics violation. Indeed, under the new rule, it is a violation of the Senate's ethics rules to disclose anything about the workings of a confidential Senate ethics matter—the senator involved, the nature of the complaint or the reasoning for a dismissal. Senate Democrats, who voted against the rule change, called it a "gag order." They're right about that/Wayne Hoffman (pictured), Idaho Freedom Foundation. More here.
Question: It's been awhile since I've said this. But I agree with Wayne on the Idaho Senate's ethics "gag order." How about you?
---
---