Fri., April 13, 2012, 10:10 a.m.
Marty Cheers Labrador Muslim Stand
CHEERS ... to Congressman Raul Labrador (pictured), R-Idaho. Appearing on "Meet the Press" Sunday, Labrador took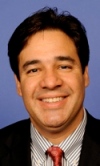 the path not typically traveled by an American politician of either party: He complained about religious persecution against Muslims. What triggered the discussion was the old canard that President Obama is a Muslim. "You know, I personally don't believe he's a Muslim," Labrador said. "He has told us that he's a Christian and I believe him. ... But it wouldn't matter if he is. ...What we need to look at is the policies. ... It's not what his religion is." What makes that statement remarkable is how few people in public life are willing to say that. The last one was former Secretary of State Colin Powell/Marty Trillhaase, Lewiston Tribune. Full Cheers & Jeers column here.
Question: What do you think of Congressman Labrador's stand?
---
---