Fri., April 13, 2012, 8:42 a.m.
Popkey: Reporter Used Fake Name
Dustin Hurst left IdahoReporter.com with unfinished business. On March 5 he had boasted on Twitter that Rep. Brian Cronin, D-Boise, "will be hired as a lobbyist in a few weeks." But Hurst didn't get the story. He left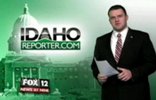 Idaho last week to start a new job at Montana Watchdog. What had excited Hurst was hypocrisy: Cronin was among the Democrats calling for a one-year cooling-off period before lawmakers could lobby state officials. On Tuesday, Hurst called the Seattle office of Strategies 360, identifying himself as "Joe Turner" of Boise. "He is interested in having you help with some business and would like for you to call him," the 360 staffer's phone message to Cronin said. Then he called his former colleague at IdahoReporter, Mitch Coffman. "He said that he had called in using a fake name," Mitch Coffman told me. "I think the role of a good journalist is to say, OK, well, you said you verified it, but if I'm the one that's going to write the story, I need to be the one to get the information"/Dan Popkey, Idaho Statesman. More here.
Thoughts?
---
---