Fri., April 13, 2012, 8:32 a.m.
Romney To Speak To NRA Today
Mitt Romney will make a high-profile pitch to wary gun owners today when he speaks to the National Rifle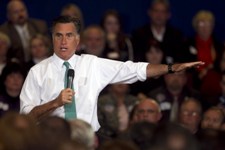 Association. The likely GOP presidential nominee has said he will protect the Second Amendment but is viewed with some skepticism among gun owners, in part because of his record as Massachusetts governor and some of his previous comments about gun ownership. In 1994, when Romney ran against Democratic Sen. Edward Kennedy, the Republican said "I don't line up with the NRA." During his 2002 gubernatorial bid, Romney proclaimed: "We do have tough gun laws in Massachusetts. I support them. I won't chip away at them." Gun-licensing fees went up during Romney's tenure/USA Today. More here. (AP photo)
Question: Are you a member of the NRA?
---
---