Fri., April 13, 2012, 1:39 p.m.
UI/CDA Building Spikes, Hurts Geese
According to our callers, at least three geese were severely injured while trying to nest on the beams that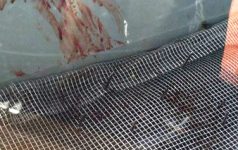 cross the waterside front of the University of Idaho Coeur d'Alene campus building. It turns out that to deter the geese from nesting – as they have in previous years — a maintenance crew had installed, literally, a bed of 5-inch nails. Horrified witnesses in the building watched the geese struggling to make a nest while getting punctured by the nails. The geese were completely covered in blood and could not understand their peril as this had been their nesting area for years/Terry Harris, KEA Blog. More here. H/T: Facebook Friend Carol Muzik
Thoughts?
---
---