Mon., April 16, 2012, 1:33 p.m.
Tea Party Now 3 Years Old In Montana
Three years ago, Eric Olsen was a petroleum engineer hungry for employment and fed up with the skyrocketing national debt, newly elected U.S. President Barack Obama and a seemingly lost Republican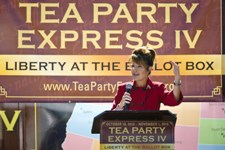 Party. So, he struck out for the Yellowstone County Courthouse lawn with a picket sign and an American flag. It was April 15, Tax Day. He was joined by several dozen other locals who like Olsen were too angry at pork barrel spending by GOP lawmakers to call themselves Republicans, too tired of yelling at the pundits on Fox News to stay at home and yell at the television anymore. The people on the courthouse lawn that day carried signs protesting just about everything from immigration to deficit spending to something called the left-wing socialist agenda. A man in the front of the pack held up the book "God's Politics; Why the Right Gets It Wrong and the Left Doesn't Get It." Several of the placards held up read "Taxed Enough Already," or TEA for short. This was the beginning of the (Billings) Tea Party/Tom Lutey, Billings Gazette. More here. (AP file photo: Sarah Palin addresses Tea Party rally at Reno, Nev., in October 2010)
Question: How has the Tea Party reshaped the Republican Party?
---
---