Mon., April 16, 2012, 9:06 a.m.
Trib: Wolf Trapping Photo Told Tale
As required, he placed his traps away from prohibited areas - such as campgrounds - to minimize conflicts. He used the appropriate traps. Bransford heeded a requirement that he check his traps at least every 72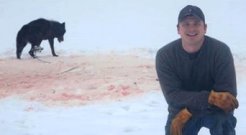 hours. He attended Idaho Fish and Game's prerequisite wolf trapping class - which spells out how a trapper is obligated to dispatch his prey and what he should do if a non-targeted animal, such as a domestic dog, is caught. Bransford, an employee of Nez Perce National Forest, next trapped a wolf on March 18 along the Red River where wolf trapping is sanctioned. Then he did one more thing. It's unclear how long he waited to put the animal out of its misery. Before he did so, Bransford stopped long enough to be photographed with his prey caught in the trap, still alive and leaving a circle of blood-soaked snow. He was grinning. The snapshot went viral. Bransford crossed all kinds of fault lines/Marty Trillhaase, Lewiston Tribune. More here.
Question: Should trapping wolves be outlawed in Idaho?
---
---