Tue., April 17, 2012, 1:11 p.m.
1 In 16 Youth Play 'Choking Game'?
One in 16 Oregon youths say they have played a dangerous game in which they get high by putting pressure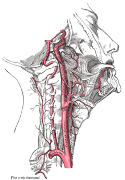 on the neck to cut off blood circulation to the brain, U.S. researchers said on Monday. The study was led by public health officials in Oregon and did not look at the extent of the problem nationwide. But the researchers said there is no reason to think the results would be significantly different elsewhere in the United States. The team surveyed 5,000 eighth graders in 2009 to see whether they had participated in the "choking game," which can result in deaths, seizures, brain damage and even fatal head injuries from falling to the ground/Reuters. More here. (Wikipedia photo) H/T: Orbusmax
April 5: 10YO southern Idaho boy dies from playing "Choking Game"/Twin Falls Times-News
Question: Have you ever heard of the "Choking Game"?
---
---