Thu., April 19, 2012, 1:05 p.m.
Levon Helm, 71, The Band, RIP
Levon Helm, the widely respected and influential singer and drummer with the Band, whose Arkansas drawl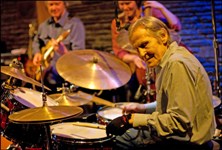 colored the group's signature hits, including "Up on Cripple Creek" and "The Night They Drove Old Dixie Down," died Thursday in New York of throat cancer. He was 71. One of three lead singers of the group that first gained fame backing Bob Dylan when he "went electric" in 1965, Helm and the Band largely created the template for a genre now labeled "Americana music" for its blend of rock, country, folk, blues and gospel strains/Los Angeles Times Pop & Hiss. More here. (AP file photo of Levon Helm drumming for the Band)
Question: Any fans of the Band out there?
---
---