Fri., April 20, 2012, 8:50 a.m.
Stop The Recall Begins Mailing Letters
Sara Meyer & Jennifer Drake of the Stop the Recall movement began mailing out a letter to every registered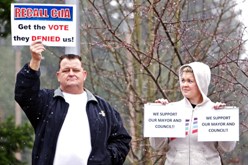 voter in Coeur d'Alene today, electronically first and then a hard copy next week -- 21,600 residents, 14,500 homes. The letter challenges four reasons given by the Souza-Sims-Orzell recall group for attempting its overthrow of city government. "Our mayor and council members being targeted for recall have done nothing wrong. They have done nothing illegal or immoral. A recall is an important part of our system of government, but it is a tool to be used in extreme circumstances, warranted by things such as criminal malfeasance or illegal activities. To attempt to recall four oustanding leaders because of an ideological disagreement is a misuse of the system. You can read the letter yourself here. (Jerome A. Pollos' Coeur d'Alene Press photo: Jennifer Drake of the Stop the Recall movement eyeballs recall proponent at City Hall April 4)
Stop the Recall will be staging a rally at 107 N. 4th St. in downtown Coeur d'Alene at 5 p.m. Wednesday.



Thoughts?
---
---