Hucks: Adams Touchy About Rebuttals
Steve Adams, a new Coeur d'Alene councilman who refuses to support any issue that involves federal dollars, doesn't like correction. After being corrected twice by City Attorney Mike Gridley for questionable statements,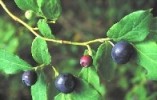 Adams asked Gridley in writing not to rebut him again during council meetings. Adams wrote that Gridley appeared to be dissing him to the mayor and council, staff and "especially the public." Adams told Gridley to offer his opinions in private. Gridley responded that he has "a duty to correct any inaccurate statements of law or fact made by (Adams) or anyone else regarding the legality of city actions." As an example, Gridley said, he would not say anything if someone opines that 15th Street is rough and should be repaved. However, Gridley wrote, if someone says 15th Street needs to be repaved because the city is violating the law "then I have a duty to express my legal opinion on the matter. It would be malpractice and a dereliction of duty if I didn't"/DFO, Sunday Huckleberries print. More here.
Question: Do you like being corrected by someone?
---
---