Thu., April 26, 2012, 8:50 a.m.
Larsen To Chair Baseball Fund-raising
Here's hoping perfection repeats itself. New York Yankee pitching icon Don Larsen (shown in SR file photo), the Hayden resident best remembered for tossing a perfect game in the 1956 World Series, agreed to be the honorary chair for the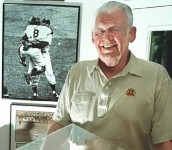 fundraising drive for a new baseball stadium in Coeur d'Alene. "We are extremely pleased that Don has agreed to be the honorary chair for the fundraising campaign," said campaign chair and baseball supporter Ron Ouren in a prepared statement announcing the position. "He is truly a legend and has been an inspiration to young men and women for many years." The stadium, pitched to go near Cherry Hill Park on 15th Street, would be a multi-sports complex, but would primarily host baseball games, the sport Larsen played professionally for 15 years/Coeur d'Alene Press. More here.
Question: Will a $2.5 million baseball park, built with private donations, meet the standard of being equal or better to the American Legion Baseball field on McEuen Field?
---
---