SATURDAY, APRIL 28, 2012, 4:33 A.M.
Osama Killing Becomes Campaign Tool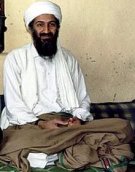 The killing of Osama bin Laden, first presented as a moment of national unity by President Barack Obama, has become something else: a political weapon. Obama's re-election campaign is portraying his risky decision to go after America's top enemy as a defining difference with his Republican presidential opponent, suggesting Mitt Romney might not have had the guts to order a mission that put lives and perhaps a presidency at stake. Obama himself is opening up on the raid again — and opening the secretive White House Situation Room as an interview stage — to hail the one-year anniversary/AP. More here.
Question: C'mon, admit it, Idaho Republican, don't you respect President Obama a little more for taking out Osama bin Laden?
---
---