Wed., Aug. 1, 2012, 8:47 a.m.
State Offers CdA Shoreline, $3M
Coeur d'Alene could become proud owners of around five miles of waterfront property. Oh, and $3 million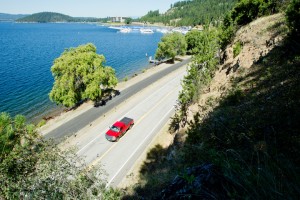 cash. Before the city agrees to take that land, and the $3 million check that would come with it from the Idaho Transportation Department, it wants to know what everyone thinks about the proposal. "There's certainly some value to look at," Mayor Sandi Bloem said of the deal sitting in the city of Coeur d'Alene's lap. "The question is, do we want to move in that direction?" The deal would give the city around five miles of East Coeur d'Alene Lake Drive, the old highway, from the city limit line at Silver Beach to just west of Higgens Point. The city would also get $3 million. In return, the city would take over maintenance of the road. Annual upkeep on the road would cost the city $13,160, street superintendent Tim Martin estimated. That would be paint for striping, labor costs and 11 pass-throughs by snowplows, which is the typical amount for an arterial road each winter/Tom Hasslinger, Coeur d'Alene Press. More here. (Shawn Gust Coeur d'Alene Press photo of Coeur d'Alene Lake Drive)
Question: What's not to like about this deal?
---
---