Thu., Aug. 2, 2012, 9 a.m.
Cindy: Singing The Blues In Wallace
Some parents take their kids to Disneyland for vacation, some travel to the Oregon Coast, others prefer to go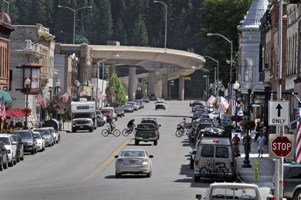 camping. We took our kids to Wallace, Idaho. The area's rich mining history didn't prompt our pilgrimage, nor was it the lure of the Oasis Bordello Museum. It was the blues that drew us – specifically, the inaugural Historic Wallace Blues Festival. Derek and I love blues music, and our youngest two sons have inherited our appreciation of this American art form. None of us had ever been to Wallace, so our trip felt like a true adventure/Cindy Hval, SR Front Porch. More here. (SR file photo of downtown Idaho)
Question: Do you enjoy blues music? And/or: Wallace?
---
---