THURSDAY, AUG. 2, 2012, 5:05 P.M.
Farris Issues Tax Return Challenge
Idaho's 1st District Democratic nominee Jimmy Farris said Thursday that "transparency in our elected officials is of the utmost importance" and released a decade of federal tax returns. (Links are below.) Farris said he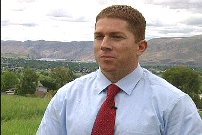 was doing so in the spirit for former GOP presidential candidate George Romney and former U.S. Senator Frank Church, D-Idaho, who made similar disclosures. The issue of releasing more than two years of returns has become an issue in the presidential race; GOP nominee Mitt Romney has resisted pressure to do more, though his father, George, released a dozen years of returns in 1968. "I want to make those available for anyone who wants to take a look," Farris said in a speech prepared for a news conference at Meridian's Generations Plaza. GOP Congressman Raul Labrador declined to release his returns, or to comment, a practice he's followed through the campaign. Said his campaign manager, China Gum: "We will not be responding on this issue"/Dan Popkey, Idaho Statesman. More here. (KLEW file photo)
Question: Do you care whether Congressman Raul Labrador releases his tax returns?
---
---