Thu., Aug. 2, 2012, 1:34 p.m.
Gookin Asks Longo To Watch Vagrants
Responding to a constituents concern (and photo) re: the increasing number of vagrants, homeless in Coeur d'Alene, Councilman Dan Gookin exchanged emails with Police Chief Wayne Longo (which Huckleberries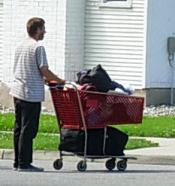 Online obtained via a public records request). This is the first of those exchanges, sent at 3 p.m. Thursday -- from Gookin to Longo: "I'm not happy with this (email attached). Is it 'profiling' to stop a vagrant walking around East Sherman with a parcel in his possession? I would argue, 'Not now.' Also, in the picture, anyone pushing a shopping cart through the streets is guilty of grand theft. I believe stopping someone pushing a cart like this is probably cause, not profiling, and not picking on someone who is 'homeless.' Given that the Post Office will no longer leave parcels at the front doors, it's no longer a choice in my opinion. This situation is not going to look good. I don't believe my constituants moved to Coeur d'Alene so that they could live with this kind of stuff going on. They expect packages to be left on the front porch and not stolen by vagrants. Thank you for your time."
Gookin sent this email to Longo the day before re: crimes of opportunity. Click here.
Question: Are you concerned with possible criminal activity created by the increasing number of homeless and vagrants in the Coeur d'Alene area? And/or: Should Coeur d'Alene police profile individuals who appear to be homeless?
---
---