Two Salisbury (Md.) University students will have front-row seats at this year's Republican and Democratic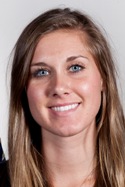 national conventions … though they may not do much sitting. Senior communication arts major Jessica Cahill of Severna Park, MD, was selected as an intern for the Republican National Convention, scheduled August 27-30 in Tampa Bay, FL. Senior communication arts major Chelsea Brown of Coeur D'Alene (pictured) was chosen to intern with the Democratic National Convention, set September 3-6 in Charlotte, NC. … Brown, who earned her B.A. in political science and English from the University of Idaho, is studying broadcast journalism at SU. "I'm very interested in political reporting," she said, adding that she was excited to "see the whole national election process from the inside." She also would like to meet President Barack Obama and Secretary of State Hillary Clinton during her internship. More from Salisbury PF department here.
Question: Have you ever been to a national political convention? What's it like?