Mon., Aug. 6, 2012, 10:51 a.m.
Bill Hall: Zucchini & Tofu For Brains
I heard a scientist on television say that the human brain is about the same consistency as tofu. That explains a lot about the limits of human thinking. Too many of us have tofu for brains. We prove the limits of the human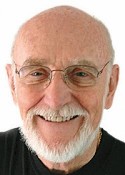 brain when we choose tofu - and zucchini - for dinner. I mention zucchini in the same context as tofu because both are nearly flavorless foods that are eaten for reasons other than flavor or excitement. I was reminded of that by a newspaper recipe urging us to cook tofu in hot Mexican sauce. That is a desperate and revealing attempt to impart flavor to a tofu dish. Tofu is not eaten because it tastes so great, or because it tastes at all. It is eaten for two reasons - because it is a large, healthy dose of the protein vegetarians need in place of meat and because it makes the people who eat it feel morally superior to meat eaters.Zucchini, by contrast, is not exactly brimming over with nutrition. You could eat tons of it every day and starve to death if you didn't also consume something like meat, tofu or maybe a five-gallon latte/Bill Hall, Lewiston Tribune. More here.
Question: Anyone out there regularly eat tofu? Really?
---
---