Mon., Aug. 6, 2012, 3:03 p.m.
Boise State In Chick-fil-A Quandary
Fast food restaurant Chick-fil-A is the target of protests and boycotts across the country. The company's CEO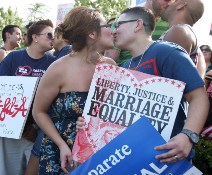 recently angered gay rights activists with statements opposed to same sex marriage and his financial support for anti-gay marriage groups. Chick-fil-A is a privately owned company but what happens when that private company meets a public institution? The Chick-fil-A in the Boise State University Student Union Building is doing brisk business these days. It's one of the few things open during the summer. But Ryan Gregg won't eat there and he'll ask his friends not to. That's as far as Boise State's student body president is willing to go right now. Gregg says that's got him some criticism from other gay students. "Students say how can you be the first openly gay president and not rail against this." Gregg answers, the Chick-fil-A in the SUB is there because students chose it in a survey. He says students must decide what comes next/Adam Cotterell, Boise State Radio. More here. (AP photo: Same-sex couples kiss during national kiss-in protest, outside a Chick-fil-A restaurant in Fresno, Calif., Friday.)
Question: Should Boise State keep the Chick-fil-A restaurant open?
---
---