Mon., Aug. 6, 2012, 1:10 p.m.
CdA Architect Nelson, 76, RIP
Prominent Coeur d'Alene architect R.G. "Bob" Nelson, who was known for his work designing the Hagadone Corp. headquarters building and The Coeur d'Alene Resort, died Thursday. He was 76. Kootenai County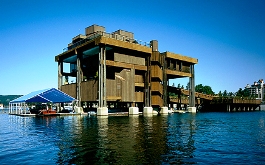 Commissioner Jai Nelson, his daughter, said his favorite project always was the one he was working on. "He'd be completely absorbed by the challenge of that project," she said. "He was completely passionate." He designed several buildings on the University of Idaho campus, including the award-winning student recreation center. Jai Nelson said she always admired his tenacity in life as well as his dedication to his profession. "I loved working with him," she said. "If you stand downtown in Coeur d'Alene you can see so many of his buildings. He's really had an impact in his work"/David Cole, Coeur d'Alene Press. More here. (Coeur d'Alene Press courtesy photo of Hagadone HQ, designed by R.G. Nelson)
Question: Did you know R.G. Nelson?
---
---