Mon., Aug. 6, 2012, 11:18 a.m.
CPD Catches Theft Suspects
Coeur d'Alene Police Detectives found and arrested two people suspected in recent mail thefts and check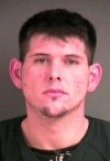 cashing: Michael Graham Wilkins, 28, of Coeur d'Alene, and Lacey Lynn Fugate, 17, who is currently wanted for being a runaway from Douglas County, Ore. They were taken into custody at the Lake Drive Motel, 316 E. Coeur d'Alene Lake Drive, where they were staying. Detectives searched their room and discovered property they had purchased with the use of stolen credit cards and stolen checks. Among the items located were a new printer and a package of blank checks that had been purchased from Versa Check on- line with one of the stolen credit cards. Both suspects were taken into custody on outstanding warrants from Douglas County, Oregon. Detectives expect to seek charges today on both suspects for Grand Theft and Burglary/Sgt. Christie Wood, Coeur d'Alene Police Department.
---
---