Mon., Aug. 6, 2012, 4:28 p.m.
OTV Review: Chicken Samosas? Wow!
OrangeTV/Get Out! North Idaho was wary of Midtown Safety but stopped anyway: "Still, when I'm hungry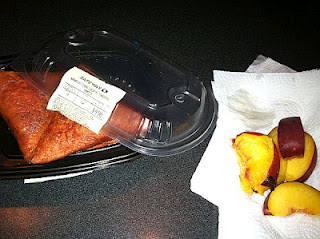 enough I have a look-see anyway, and today I found something there that threw me for a lit of a loop: "Nana's Kitchen Chicken Tandoori Samosas". I'd heard of the term Samosa before, but frankly, I had no idea exactly what I was looking at. (I later educated myself here). I asked the Deli Queen on duty if they were best eaten hot or cold and she gave me a blank stare for a moment before replying "uhh...both I guess". $4.99 was a bit of a high price point for grocery deli action, but I was feeling experimental and starvacious, so I threw it in my hand basket, filed through the check out line and headed for work. I put the nuclear orangey-brown triangle up to my mouth and took a ginger little nip on the corner, not exactly sure what to expect. Wow, surprises are a kick, and this little odd pocket was substantially brimming with flavor right away. I'm putting it out there right now that this is the best Safeway deli item I've subjected myself to, miles beyond their dry bread/soggy tomato grab-and-go sandwiches or their bland-ass slimy-skin chicken parts." More here.
Question: Have you found an unexpected surprise in a local supermarket deli?
---
---