Tue., Aug. 7, 2012, 2:08 p.m.
Film, Stage Maestro Hamlisch, 68, RIP
Marvin Hamlisch, the Pulitzer Prize-winning composer who imbued his movie and Broadway scores with pizazz and panache and often found his songs in the upper reaches of the pop charts, died on Monday in Los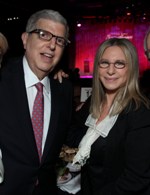 Angeles. He was 68 and lived in New York. He collapsed on Monday after a brief illness, a family friend said. For a few years starting in 1973, Mr. Hamlisch spent practically as much time accepting awards for his compositions as he did writing them. He is one of a handful of artists to win every major creative prize, some of them numerous times, including an Oscar for "The Way We Were" (1973, shared with the lyricists Marilyn and Alan Bergman), a Grammy as best new artist (1974), and a Tony and a Pulitzer for "A Chorus Line" (1975, shared with the lyricist Edward Kleban, the director Michael Bennett and the book writers James Kirkwood Jr. and Nicholas Dante). His omnipresence on awards and talk shows made him one of the last in a line of celebrity composers that included Henry Mancini, Burt Bacharach and Stephen Sondheim/New York Times. More here. (2011 AP file photo of Hamlisch & Barbra Streisand)
Question: How did the work of composer Marvin Hamlisch impact you?
---
---