Tue., Aug. 7, 2012, 9:41 a.m.
Libertarian Prez Wannabe Visits Boise
Former New Mexico Gov. Gary Johnson rejects talk that he could spoil Mitt Romney's chances in the Mountain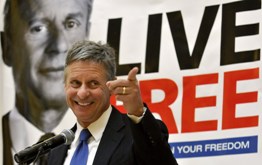 West and says he won't pick a lesser of two evils. "I don't bash Obama, I don't bash Romney," Johnson said Monday before a meet-and-greet in the Old Spaghetti Factory in Boise. "I just think they're both about status quo." Johnson ticked off the differences, rapid-fire: "I don't want to bomb Iran. I want to get out of Afghanistan and bring the troops home tomorrow. I really do believe in marriage equality, I think it's a constitutionally guaranteed right. I want to abolish income tax, corporate tax, the IRS — replace it with a national consumption tax. I want to end the drug wars. I am promising to submit a balanced budget. There are really big differences between me and these other two cats"/Dan Popkey, Idaho Statesman. More here. (AP file photo of Gary Johnson announcing his presidential candidacy)
Question: Does a Libertarian candidacy for president have any appeal to you?
---
---