Wed., Aug. 8, 2012, 1:46 p.m.
Council OKs Legion Baseball Move
On a unanimous vote, with even long-time holdout Councilman Ron Edinger agreeing, the Coeur d'Alene City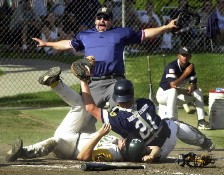 Council OK'd an agreement with American Legion Baseball to move the ALB diamond from McEuen Field to Ramsey Park. The 6-0 decision Tuesday night followed a discussion in which Parks Director Doug Eastwood laid out plans to add 75 to 100 parking spaces for American Legion Baseball and the softball fields on a former railroad right of way. Edinger groused that he didn't think the new baseball diamond and location met the qualifications of being "equal or better" than the current American Legion facility. Approval by American Legion Baseball of the memorandum of understanding for the move was key in winning council approval. The move will clear the way for an upgrade and new design concept for the history McEuen Field. You can read the discussion in the rough draft of the council minutes here. (Jesse Tinsley SR file photo of home plate call during American Legion Baseball game at McEuen Field)
Thoughts?
---
---