Wed., Aug. 8, 2012, 3:42 p.m.
New Yorker ♥'s Idaho Bicyclist Laws
On the New York Times opinion page, columnist Randy Cohen holds up Idaho -- Idaho! -- as an example of reasonable bicycle law when it comes to stop signs. (Bicyclists can treat them like yield signs and roll through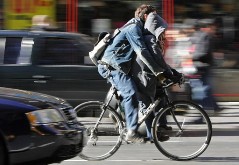 them if the coast is clear.) Writes Cohen: "I am not anarchic; I heed most traffic laws. I do not ride on the sidewalk (O.K., except for the final 25 feet between the curb cut and my front door, and then with caution). I do not salmon, i.e. ride against traffic. In fact, even my "rolling stops" are legal in some places. Paul Steely White, the executive director of Transportation Alternatives, an advocacy group of which I am a member, points out that many jurisdictions, Idaho for example, allow cyclists to slow down and roll through stop signs after yielding to pedestrians. Mr. White e-mailed me: "I often say that it is much more important to tune into the pedestrians rather than tune into the lights, largely because peds jaywalk so much!" If my rule-breaking is ethical and safe (and Idaho-legal), why does it annoy anyone?" More here. (AP file photo: Two bicyclists ride through New York streets)
Question: Should Idaho continue to allow bicyclists to roll through stop signs, if it's safe to do so?
---
---