Wed., Aug. 8, 2012, 9:19 a.m.
Priest Lake Resort Is Culinary Gem
After winding through tree-lined roads or perhaps approaching by boat through ice-blue waters of Priest Lake, you'd be excused for not knowing that inside of Elkins Resort's rustic log-cabin-style lodge is one of North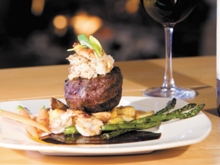 Idaho's culinary gems. In operation on the west side of the lake since 1932, Elkins' cozy dining room consists of 17 tables that are almost all occupied during the summer months. Under the direction of chef Schuyler Price, formerly of Spokane's Latah Bistro, Elkins has enjoyed a busy summer thus far, serving up a Northwest-centric menu of seafood (like the Alaskan halibut or seafood pasta) along with an array of steaks, including a creative shrimp-and-crab stuffed baseball-cut sirloin. Yes, that's indeed shrimp and crab inside of a steak. A destination dining spot for the region, Elkins strives to be innovative while also staying true to the restaurant's history/Mike Bookey, Pacific Northwest Inlander. More here. (Inlander photo)
Question: Have you ever dined at Elkins Resort?
---
---