Thu., Aug. 9, 2012, 2:40 p.m.
Ex-NIC Star Performs Well w/Turkey
Former North Idaho College stalwart Tugce Canitez's bid for an Olympic medal has come to a halt. Turkey,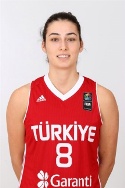 Canitez's homeland, was edged by Russia in a taut 66-63 decision in the women's basketball quarterfinals on Tuesday night, ending the Turks' first-ever appearance in the sport. The first-round elimination came after an impressive pool play showing which saw Turkey go 4-1 with wins against Angola, Czech Republic, China and Croatia. The USA handled Turkey 89-58. Canitez, 21, was the youngest player on the roster and was the 12th-youngest in the 12-team tournament. She saw action in all six contests, averaging 7.4 minutes, 1.3 points and 1.8 rebounds an outing/Ryan Collingwood, VarsityCDA. More here.
Question: Have you ever watched a women's basketball game at North Idaho College?
---
---