Thu., Aug. 9, 2012, 12:11 p.m.
Love Story: 75 Years Of Wedded Bliss
In 1937, John Steinbeck's "Of Mice and Men" hit the bookshelves, Fred Astaire crooned "They Can't Take That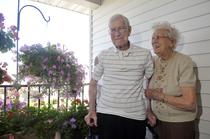 Away From Me," milk cost 14 cents a gallon, and 9 cents would buy a loaf of bread. And on June 9, Emil and Mary Larsen wed. Seventy-five years later, Emil, 99, still smiles when he recalls the day he first saw Mary. "She had long black hair down to her waist," he said. "Her aunt owned a dance hall at Eloika Lake and got her milk, cream and vegetables from my father's farm." On that afternoon Mary and her brother had been dispatched to the Larsen farm near Elk to fetch fresh milk. Emil happened to be home. "I'd just arrived from working in Oregon," he said/Cindy Hval, SR Love Story. More here.
Question: Can you imagine being married 75 years?
---
---