Fri., Aug. 10, 2012, 3:59 p.m.
Coeur d'Alene Embraces Goat Power
Coeur d'Alene got its goats, and the city isn't the least bit annoyed by it. City water officials long have wanted to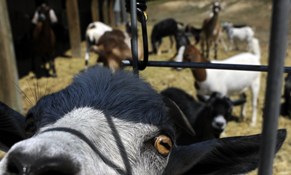 use goats to mow down weeds at municipal well sites, but a U.S. Environmental Protection Agency rule prohibits livestock at such sources of drinking water. The city's water department said today it was able to convince state regulators that goats don't pose the same health threat as cows, whose manure can contaminate groundwater with the E. coli bacteria. The Idaho Department of Environmental Quality has granted the city a waiver to use goats for weed control at any of its nine well sites. The city will begin this weekend with a tribe of 20 to 25 pygmy goats inside a fenced well near the traffic circle at Kathleen Avenue and Fourth Street, south of Coeur d'Alene High School/Scott Maben, SR. More here. (SR photo: Kathy Plonka)
Question: Have you ever milked a goat?
---
---