Fri., Aug. 10, 2012, 1:14 p.m.
Ex-Idaho Doc Faces Torture Charge
A pediatrician who worked in Pocatello during the 1980s is behind bars for allegedly waterboarding his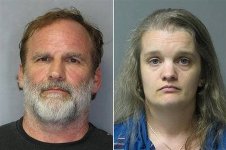 daughter. His wife was also arrested on charges of recklessly endangering their children. The 11-year-old daughter of Dr. Melvin Morse and his wife, Pauline Morse, told law enforcement that she was waterboarded, which simulates drowning and has been used on terrorism suspects. Most experts call it torture. Morse has authored several books on paranormal science and near-death experiences, appearing on The Larry King Show and Oprah to discuss his research. In addition to his time in Idaho, Morse worked in California, Washington and Delaware, where he currently lives with his wife/George Prentice, Boise Weekly. More here. (Mug shots: Delaware State Police)
Thoughts?
---
---