Fri., Aug. 10, 2012, 4:56 p.m.
Post Falls One Win From Williamsport
The best compliments often come from the opposition, and Post Falls Little League pitcher Jake Pfennigs left Boulder Arrowhead of Billings, Mont., in awe Thursday. Pitching in front of a nationally televised audience on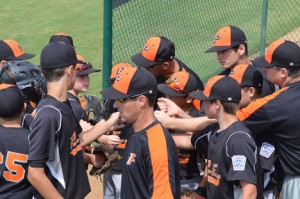 ESPN2, Pfennigs threw a four-hitter with 11 strikeouts in a 3-2 victory against Montana in a Northwest Regional semifinal baseball game at Al Houghton Stadium. "I haven't watched every game here at the tournament, but I've watched enough of them and I haven't seen anybody better than him," Montana coach Troy Tallman said of Pfennigs. "He's got great stuff. He throws hard - he's tall, so he's throwing downhill to these 12-year-olds, and he's a pretty imposing figure out there." After a shaky first inning in which he allowed the only two runs for Montana, Pfennigs settled down and retired 12 straight batters, striking out nine. That gave Post Falls an opportunity to rally and tie the score with two runs in the third inning and take the lead for good with a run in the fifth/Dan Arritt, special to the Coeur'Alene Press. More here. (Coeur d'Alene Press photo courtesy of John Gunnerson)
Question: Do you ever make an all-star team in any sport?
---
---