Fri., Aug. 10, 2012, 11:56 a.m.
'Willy Wonka' Director Stuart, 83, RIP
Mel Stuart, the Emmy-winning filmmaker and documentarian who tackled such serious subjects as the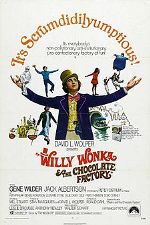 assassination of John F. Kennedy and mental illness but is perhaps best known for directing the whimsical Willy Wonka & the Chocolate Factory, has died. He was 83. Madeline Stuart told The Associated Press that her father died Thursday night of cancer at his home in Los Angeles. .. The 1971 musical fantasy Willy Wonka & the Chocolate Factory, starring Gene Wilder, was Stuart's response to a young reader of the Roald Dahl children's classic Charlie and the Chocolate Factory. That fan was Stuart's daughter Madeline, who asked her dad to make a movie of the book she loved. With Wilder as Willy (and 11-year-old Madeline in a cameo role as a student in a classroom scene), it became an enduring family favorite/Hollywood Reporter. More here. (Wikipedia photo of poster of Gene Wilder as "Willy Wonka")
Question: What movie featuring children is your favorite?
---
---