Mon., Aug. 13, 2012, 10:41 a.m.
Canadians Upset Costco Shoppers
It's not exactly an international incident, but some Bellingham Costco shoppers are requesting American-only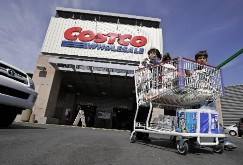 hours because they complain the warehouse is overrun by bargain-seeking Canadians. They've launched a Facebook page, named "Bellingham Costco needs a special time just for Americans." The page complains the Canadian shoppers "can be rude. The lines are crazy. We aren't on a vacation and have an RV to hang out in like those Canadians. We just want to go shopping, not go on an adventure. Costco used to have special opening hours for preferred customers. Why cant [sic] they do that for us loyal American customers?" the page says. Photos on the page show cars with Canadian license plates taking up multiple parking spaces and crowding Costco gas station lines, while comments also complain about Canadians buying too much milk/Josh Kerns, MyNorthwest.com. More here. (AP file photo for illustrative purposes)
Question: Is this a problem at local Costco?
---
---