TUESDAY, AUG. 14, 2012, 8:21 A.M.
Riverstone Wants $20K For Lot Lease
Riverstone West, LLC is asking Kootenai County to pay more than $20,000 a year to use a parking lot for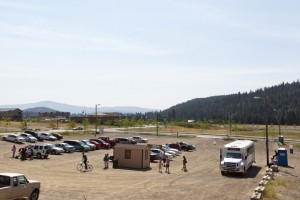 community busing services, after the company has provided the lot for free for several years. The county can hardly be bitter, said Commissioner Dan Green. "I guess it's always nice getting it for free, we'll be disappointed we have to pay, but it's the gentleman's property," Green acknowledged. For roughly five years, developer John Stone has allowed vacant lots at the Riverstone development to be used for Citylink buses to pick up and deposit passengers. Riders have also parked their cars there. Those activities have been situated for about four years at a 1.4-acre dirt lot at East Seltice Way and West Riverstone Drive/Alecia Warren, Coeur d'Alene Press. More here. (Coeur d'Alene Press photo)
Question: Seems like a small price to pay for a good service. What do you think?
---
---