Wed., Aug. 15, 2012, 8:54 a.m.
Brett Backs CdA Baseball Concept
They call it the Field of Dreams, but backers of a proposed $2.7 million ballpark in east Coeur d'Alene hope to move it closer to reality in the next year. On Tuesday they pitched the concept to the city's Parks Commission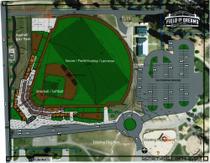 with an endorsement from Bobby Brett, owner of the Spokane Indians and Spokane Chiefs. "If you have nice facilities, people will go and spend their entertainment dollars there," Brett told commissioners. Supporters want the city to build the facility at Cherry Hill Park using private donations, then own and operate it for baseball and other uses. Irv Zakheim, owner of the Spokane RiverHawks collegiate summer league club, wants to move his team to the new ballpark and resume play in the West Coast League for the 2014 wood-bat season. "Coeur d'Alene is a perfect city for the West Coast League," Zakheim said. "Spokane's too big of a town. It also has the Indians (that) we can't compete with"/Scott Maben, SR. More here. (MillerStauffer Architects concept drawing of possible baseball diamond at Cherry Hill)
Question: What would be a good name for the proposed West Coast League team in Coeur d'Alene?
---
---