Another High-Rise For Downtown?
Item: Moving on up: Twelve-story building proposed at corner of Lakeside and First/Tom Hasslinger, Coeur d'Alene Press
More Info: A Colorado company is proposing to build a 12-story retail and apartment building in the heart of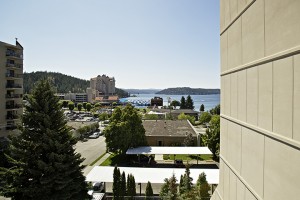 downtown Coeur d'Alene, adjacent to some highrise apartments already there. Austin Lawrence Partners, a real estate development firm out of Aspen, Colo., hopes to break ground on the 125,000-square-foot, 60-unit luxury-apartment building, called One Lakeside at 201 N. First St., in the spring. The proposed mixed-use building would sell one-, two- and three-bedroom apartments with "high-end finishes and appliances," according to the company's website. A 12-unit apartment building, called Lakeside Apartments, currently sits on the 20,000-square-foot lot, which Austin Lawrence Partners purchased in April 2012. (Coeur d'Alene Press photo: Jerome A. Pollos)
Question: Is there room for another high-rise in downtown Coeur d'Alene?
---
---