THURSDAY, AUG. 16, 2012, 2:01 P.M.
Are Resort Guests Old, Rude, Mean?
Idawa: I just spoke to one of my co-workers who just spent the last couple days at the Cd'A Resort. While he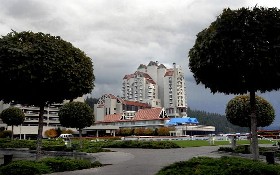 had nice things to say about the resort and the town, he was, in his words, "disgusted" by the other guests at the resort. Generally, he observed that most of them were old, rude, mean to the staff, and just plain impolite (didn't hold doors for his wife and kids, didn't clap when performers were done performing for them, etc…). He just sensed a sort of obnoxious sense of entitlement from them. I told him that except for a one night stay at the resort on my honeymoon (I didn't have a lot of interaction with the other guests except for one that night!), I didn't have much experience with the Hagadone crowd growing up in Cd'A. So, does his perception hold up with everyone's experience? (SR file photo)
Question: I interpret this as an observation re: the guests at the resort and not the quality of service and amenities offered there. I haven't spent a night at the resort. So I have no firsthand knowledge re: its customers. Anyone out there who does?
---
---