Thu., Aug. 16, 2012, 11:07 a.m.
Rebuilding Idaho Territorial Capitol
The building started its life around the year 1862 as a livery stable supply shop, became the Idaho Territorial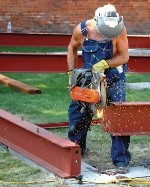 Capitol but then died in obscurity as a neglected old icehouse sometime around 1915. Its ruin was observed with little ceremony, but Lewiston historian Steven Branting said the loss of the building that held the first two territorial Legislatures made a mark on the history of the city that lingered well after its death. Citizens tried to save it in 1914, Branting said, but efforts to move it to what is now Pioneer Park withered. Another group wanted to build a replica of the building in 1992, but that also failed. With the sesquicentennial anniversary of the Idaho Territory coming next year, the building that held its first lawmakers will return to Lewiston Friday with the construction of a replica at the corner of 12th and Main streets/Cody Bloomsburg, Lewiston Tribune. More here. (Barry Kough Lewiston Tribune photo of worker constructing base of capitol replica)
Question: Would you rather have the Idaho capitol in Boise or Lewiston?
---
---