Thu., Aug. 16, 2012, 1:09 p.m.
Spokane Valley Rep Blocks Media
Spokane Valley Rep. Matt Shea must be feeling pretty low about "the media." Shea -- the same guy who pulled a gun on another driver in an apparent road rage incident and took photos of himself standing in his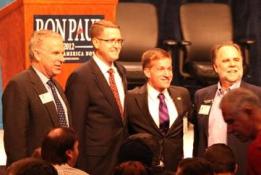 opponent's driveway -- has blocked multiple reporters from following his Twitter account. Arts Editor Mike Bookey and reporters Daniel Walters, Chris Stein and myself have all been shunned from following or communicating with Shea on Twitter. Seriously, what did @Bookeyblender ever do to Shea? But it's not just us. Spokesman-Review columnist Shawn Vestal also says he's been blocked -- and that Shea posted correspondence with Vestal to the legislator's blog. The Twitter blocking is only the latest talk-to-the-hand by the conservative legislator. He hasn't responded to a request for comment by The Inlander on any story we've called him for in 2012. (Daniel Walters did, however, speak to him in person during a February Ron Paul event)/Joe O'Sullivan, Pacific Northwest Inlander. More here. (Phantom Photographer photo from Ron Paul rally in Spokane this winter: Phil Hart, Matt Shea, Paul staffer and Vito Barbieri)
Question: Do you think this guy would fit in well as a representative for Kootenai County's 2nd Legislative District (Hart, Barbieri & Vick)?
---
---