Thu., Aug. 16, 2012, 1:19 p.m.
UI Joins Big Sky In All But Football
Idaho plans to play as a Football Bowl Subdivision independent and join the Big Sky Conference in other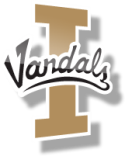 sports, pending Idaho State Board of Education approval Friday. The state board will hold a special meeting Friday to vote on Idaho's athletic future. Idaho is the only agenda item and it is a "request for authorization for independent scheduling of football games and for the President to explore and accept an invitation to the Big Sky Athletic conference." The Vandals are currently members of the Western Athletic Conference. The league has experienced a number of defections in recent years, leaving it with just four members and two football-playing members — including Idaho. Idaho told the state board about its plans during an executive session Wednesday/Brian Murphy, Idaho Statesman. More here.
Question: I'd like to see the football program join the Big Sky, too. But this is a decent compromise. What do you think?
---
---