Fri., Aug. 17, 2012, 8:41 a.m.
Developers Describe High-Rise Plans
Meet the neighbors. The Colorado developers proposing to build a 12-story retail and apartment complex in downtown Coeur d'Alene laid out the first wave of details behind the estimated $20 million project Thursday,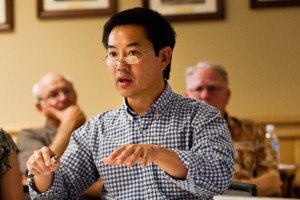 saying they want to work with the surrounding neighborhood as much as possible as they turn the conceptual plan into a final design. "I don't consider myself a local by any stretch of the imagination," said Greg Hills, principal of real estate development firm Austin Lawrence Partners, out of Aspen, Colo., which is pitching the project. "I'm not saying that I am ... But our goal is to have a collaborative effort with the city on this building." The company wants to break ground on a 125,000-square-foot, 60-unit luxury-apartment building at 201 N. First St., in the spring/Tom Hasslinger, Coeur d'Alene Press. More here. (Shawn Gust Press photo: Denver architect Michael Noda describes the building style of the135-foot mixed use project proposed for 201 N. First Street)
Thoughts?
---
---