In a poignant post on her Slight Detour blog today, Marianne Love discusses an encounter with former Sandpoint High student Harvey Martin at Harvey's 1982 class reunion — a man she describes as a "jokester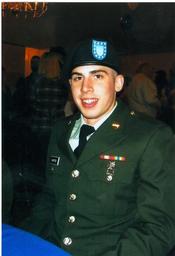 with a good heart." Harvey is the father of soldier Ethan Martin, who was killed earlier this month in Afghanistan. She writes: "It was May. We were both shopping at a local store. We took time to do some catch-up on kids and life. Harvey was busting his buttons that day with the news that his daughter was graduating from the University of Idaho. She would be a teacher. We also talked about his son Ethan. A proud father he was, for sure. I walked away from that conversation so proud and happy for Harvey. None of us on this day can come close to comprehending the sadness the Martin family is feeling as they bring their hero home to his final resting place. I do know one thing, though. Harvey and the family are being sustained by the outpouring of love extended by so many throughout the North Idaho community and through Facebook posts." Complete post here.
Question: Is there a fallen soldier or Marine in your life who remains forever young?