Fri., Aug. 17, 2012, 8:51 a.m.
Trib: Jeers To 3 Idaho Delegates
In his weekly Cheers & Jeers column, Opinion Editor Marty Trillhaase of the Lewiston Tribune jeered U.S. Rep. Raul Labrador and Sens. Jim Risch and Mike Crapo, all R-Idaho, for remaining silent when Minnesota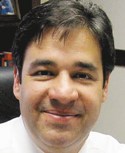 Congresswoman Michele Bachmann slimed a loyal American diplomat. Marty: "Bachmann asserted Huma Abedin, a veteran aide to Secretary of State Hillary Clinton, 'has three family members -- her late father, her mother and her brother - connected to Muslim Brotherhood operatives and/or organizations. Her position affords her routine access to the secretary and to policy-making.'" Idaho Congressman Mike Simpon joined U.S. Sen. John McCain in criticizing the McCarthy-type attack. Marty again: "But when the Idaho Statesman's editorial board asked Labrador about it, he said: 'I think we would be foolish to think that people are not trying to infiltrate our government. ... I would hope she's smart enough to have enough evidence to make a statement like that.' Crapo and Risch had even less to say. More here.
Question: Should Labrador, Risch and Crapo have spoken out against Bachmann's comments?
---
---