Mon., Dec. 3, 2012, 5:12 p.m.
Up Crippled Cook's Creek
Well, I have put myself up Cripple Cook's Creek - I broke my ankle. Even though, it is on the mend, one has to be very careful going from the fridge to the stove to the counter and back again. Granted, that big box of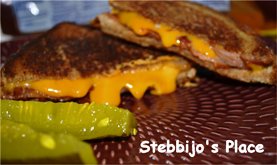 chocolates that came from my hubby's workplace kind of works for a meal as well! Why bother to cook, when you have chocolates! When you have hurt yourself, you have to be resourceful. Even getting a cup of coffee is a challenge so you can at least enjoy your predicament while you put your leg up. In my case, I have found that a swivel office chair works fairly well and is also a good workout - trying to creep along the carpet with your good leg takes some exertion and feels like 10 jumping jacks. The other thing is a lack of groceries for whatever suits your taste at the time so you just have to go with what you have, but that is what I am good at. I can make a meal out of nothing/Stebbijo's Place. More here. (Photo: Stebbijo's Place)
Question: When did you last eat a grilled cheese sandwich? Any extra ingredients?
---
---