Tue., Dec. 4, 2012, 8:12 a.m.
Bloem Vs. Clark In Xmas Ring-Off
I always knew I'd one day have to step in and do the mayor's dirty work. Not that I'd characterize helping a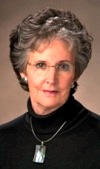 charity as dirty. But when Spokane Mayor David Condon wimped out, The Salvation Army emailed me to ask if I would "serve as Mayor Pro Tem" in its annual red kettle Ring Off against Coeur d'Alene Mayor Sandi Bloem. Who am I to dodge the Army? Well, except for the time I ran off to college in 1969, that is. So mark your calendars for Dec. 15. That's the day you'll want to stop by the Spokane Fred Meyer store on Thor, between 10 a.m. and 5 p.m. I'll be there along with a soon-to-be-named "Dream Team" of yuletide jingle-janglers. ... Meanwhile, over in the Lake City, Bloem and her minions will be ringing away at the Fred Meyer. The less said about the opposition the better. The contest is simple: Whoever raises the most money wins bragging rights/Doug Clark, SR. More here.
Question: Who do you think'll win?
---
---