Tue., Dec. 4, 2012, 8:39 a.m.
Denney: Don't Embarrass Legislature
Ghost of indiscretions past: The specter of former Senate Majority Caucus Chairman John McGee appeared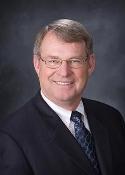 Monday on the first day of orientation for new lawmakers. McGee, who resigned early this year after a 2011 DUI and a 2012 sexual harassment case, wasn't mentioned by name, but his spirit was in the room. Be ready for scrutiny: At the luncheon that opened three days of training for 44 new Idaho lawmakers, House Speaker Lawerence Denney, pictured, urged the group to be mindful of the scrutiny they'll draw as elected officials. "I want to welcome you to the goldfish bowl": Denney, R-Midvale, said: "Everything you do is going to be observed. You're going to have to be very, very careful what you do, when you do it and how you do it because it may be the headline the next day"/Dan Popkey, Idaho Statesman. More here.
Question: Do you think the 2013 Idaho Legislature will suffer a major ethical lapse by a member?
---
---