Tue., Dec. 4, 2012, 8:35 a.m.
Dying Vet: I'd Go Again
In combat, Larry Scott said soldiers like him never considered the possibility that their own government was poisoning them. The unthinkable endured in his mind long enough that he was 52 years old and had been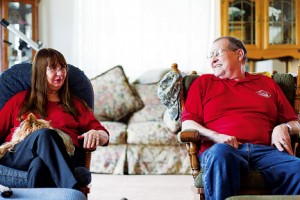 suffering with cancer for two years before he found out the truth. He had been poisoned with Agent Orange while serving in Vietnam, during his year-long tour starting in October 1970. The 62-year-old Hayden resident said last week that he only has a few months to live. Or less. "I may not make it to Christmas," he said. In the meantime, he's just making the most of each day, spending it with family. "Dying doesn't scare me," he said. "It's the process of getting there that gets you nervous because you just don't know what's next"/David Cole, Coeur d'Alene Press. More here. (Shawn Gust's Press photo: Larry and Janet Scott talk about their active lives and good attitudes Tuesday at their Hayden home)
Thoughts?
---
---